The International Brotherhood of Electrical Workers was founded on a need for training and advancement for electrical workers. Across the country, the IBEW is training apprentices and journeymen, to make them the best, most qualified workforce in the electrical construction industry.
Since 1943, the IBEW Local 743/NECA Electrical Training Alliance has been training electrical workers in this region. Both apprentices and journeymen use the training center to increase their skills.
The training center is part of the earn while you learn model of apprenticeship. Apprentices earn while they learn by working for a IBEW 743 signatory contractor and then attending classes at the training center. Apprentices earn a livable wage and great benefits such as family healthcare, 401k and a pension plan.
This apprenticeship program allows people to get started in a rewarding career while avoiding the cost of college. Instead of piling on thousands of dollars of student debt, apprentices begin earning a livable wage.
Journeymen electricians can return to the training center to further their knowledge of the trade. As new technologies and equipment are developed, the training center and the IBEW produce new training programs and classes for journeymen to take part in.
Upgrade certification classes are offered such as the OSHA-30 Hour certification to ensure that the IBEW Local 743 workforce understands the safest work procedures.
The training offered at the state of the art training center allows IBEW Local 743 electricians to be the best in the trade.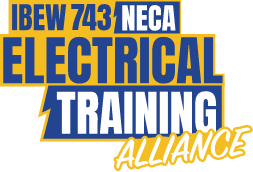 Visit the Local 743 training center website and learn more about apprenticeship and journeyman training.