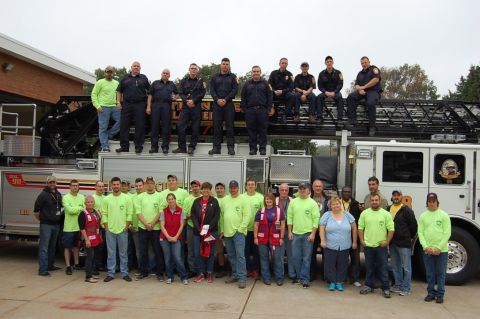 IBEW Local 743 Apprentices Help Community
The Red Cross and the Western Berks Fire Department teamed up with 17 IBEW Local 743 apprentices on Saturday, October 8, 2016 to install smoke detectors in a local community. The group installed 171 smoke detectors in 45 homes in Sinking Spring, PA. The joint campaign looks to ensure houses are equipped with working smoke alarms. After staging material and receiving some brief training the Local 743 apprentices broke up into small groups to start their day. Along with members of the Red Cross and the fire department, they canvassed the Sinking Spring Community, toting ladders and buckets of materials needed to install the free detectors.
"The IBEW apprentices did a fabulous job," said Heather Bowman, Disaster Program Specialist with the American Red Cross. "I can't say enough about the positive impact they had on the event."
This event is just one of the ongoing community service projects in which IBEW Local 743 participates.