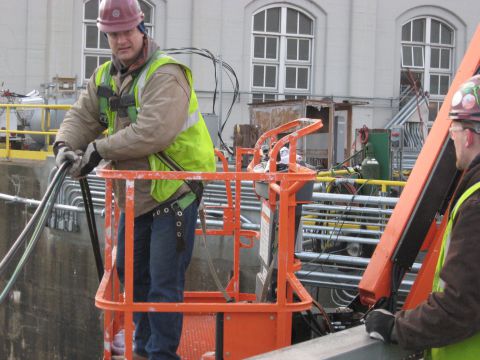 IBEW Local 743 worked to complete Susquehanna River : Holtwood Plant
Generating Electricity for Lancaster and York Counties
In 2010, PPL began expansion on its Holtwood Plant which has been generating electricity for Lancaster and York Counties since 1910. The plant uses the power of the water from the Susquehanna River which is held back by a 55-foot-high dam. The expansion allows PPL Holtwood to increase its generating capacity by 125-megawatts.
For the past four years, IBEW Local 743 members have used their knowledge and training to help make the expansion a reality.  Our electricians along with other skilled workers of the Building & Construction Trades productively worked to complete this project on time and on budget.
The plant uses American parts built by American workers installed by local electricians to keep jobs here at home.
The Holtwood Plant kept the environment in mind when expanding. Fish Lifts were installed to enable the migration of the American shad on their annual spring trip up the Susquehanna River, a bald eagle monitoring and management plan was implemented, and much work has been done to preserve and protect about 3,000 acres of land around the plant.
These kinds of projects keep the American middle class working to provide for families now and in the future.
Year Completed: 2013
Job Type: Private
Affiliated Contractor Information: MBR Construction
City: Holtstown, Pennsylvania